How To Choose The Best Lights For Cycling
Lights, headlamps, or head torches - whatever you call them, you need them! Visibility equals safety. Torches are a must-have when cycling. Not only do they help you see the path ahead, but they can also keep you safe by alerting drivers to your presence. There are many different types of headlamps on the market, and the one you choose will depend on your specific needs. In this article, we will provide you with a few tips on how to choose the best headlamp for cycling.
Bright As Day 3000
GoPro Mount
One lamp, unlimited setup possibilities.
Premium battery
4 cells 4,600mAh (14.8v)
shockproof case and bike friendly rubber. Market-leading power and longevity.
2 year warranty.
Blade design
Passive cooling in motion
allows for constant and
real lumens.
Brightness
The most important factor to consider when buying a headlamp is adapting the brightness to the terrain on which you will be riding.
Will you be commuting on a lighted street? An 800-lumen lamp will be sufficient. But if you want to go off-road, you will appreciate 3000 or 4000 lumens greatly.
The most popular headlamp for cycling is the Bright As Day 3000! It is extraordinarily bright and allows you to ride as if it were daylight on any type of surface.
Norwegians take cycling seriously, and during the darkest month of the year, there are no excuses not to get out!

Did you know? In Norway, you will get fined if you no do wear any light riding your bike at night!
Bright as Day 3000 on the handlebar
The battery is strapped to the frame or put in your bags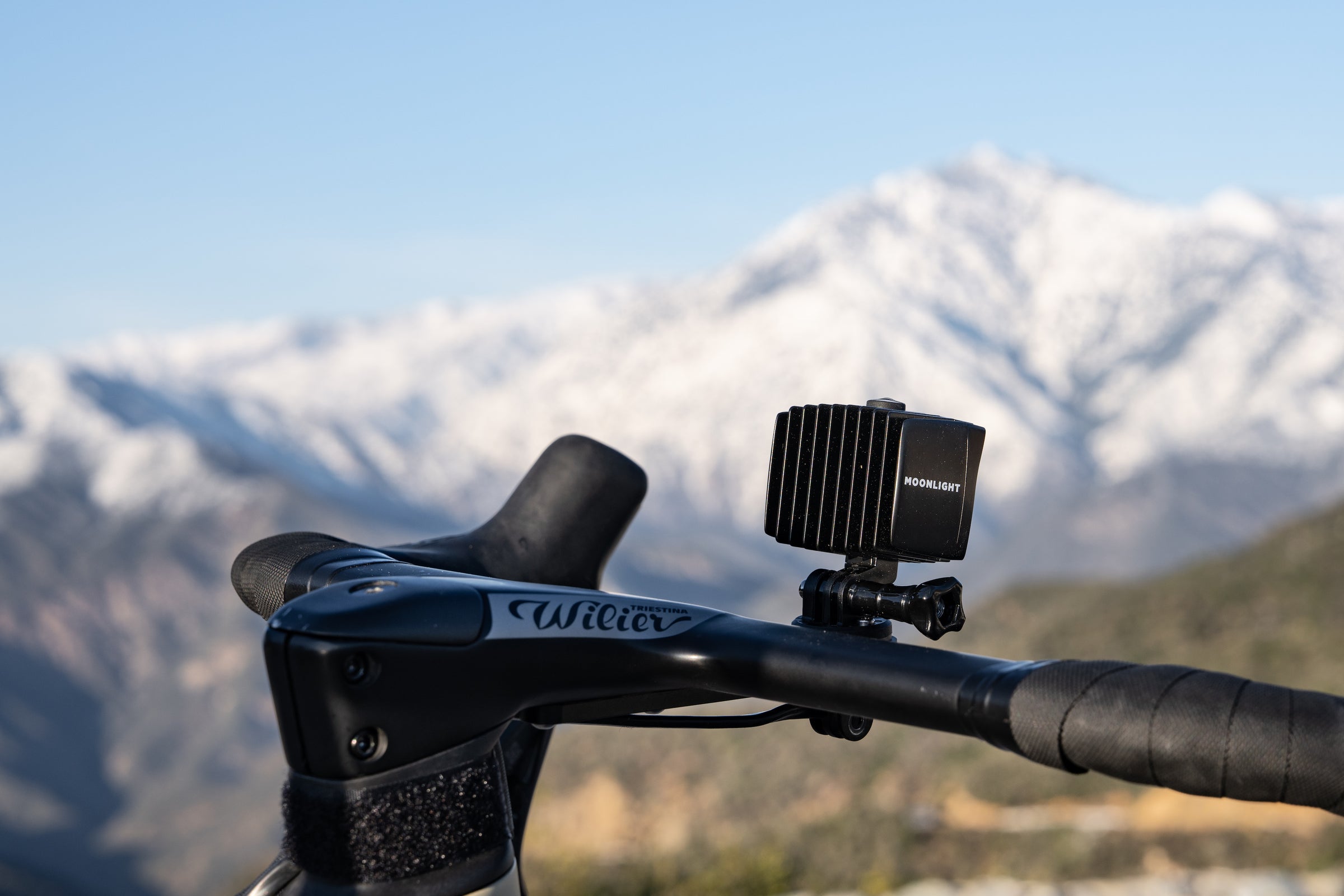 Cooling system to maintain maximum performance at all time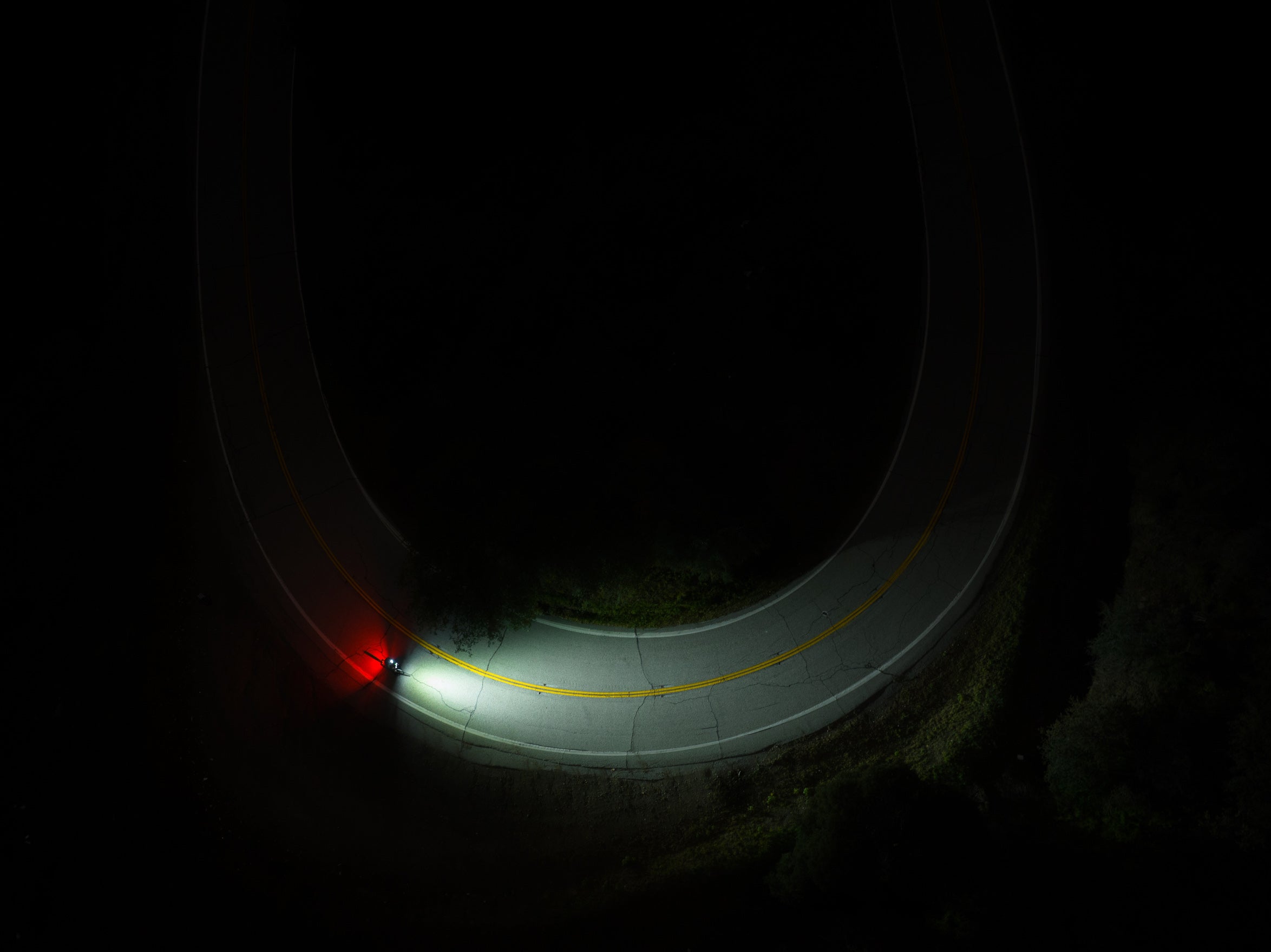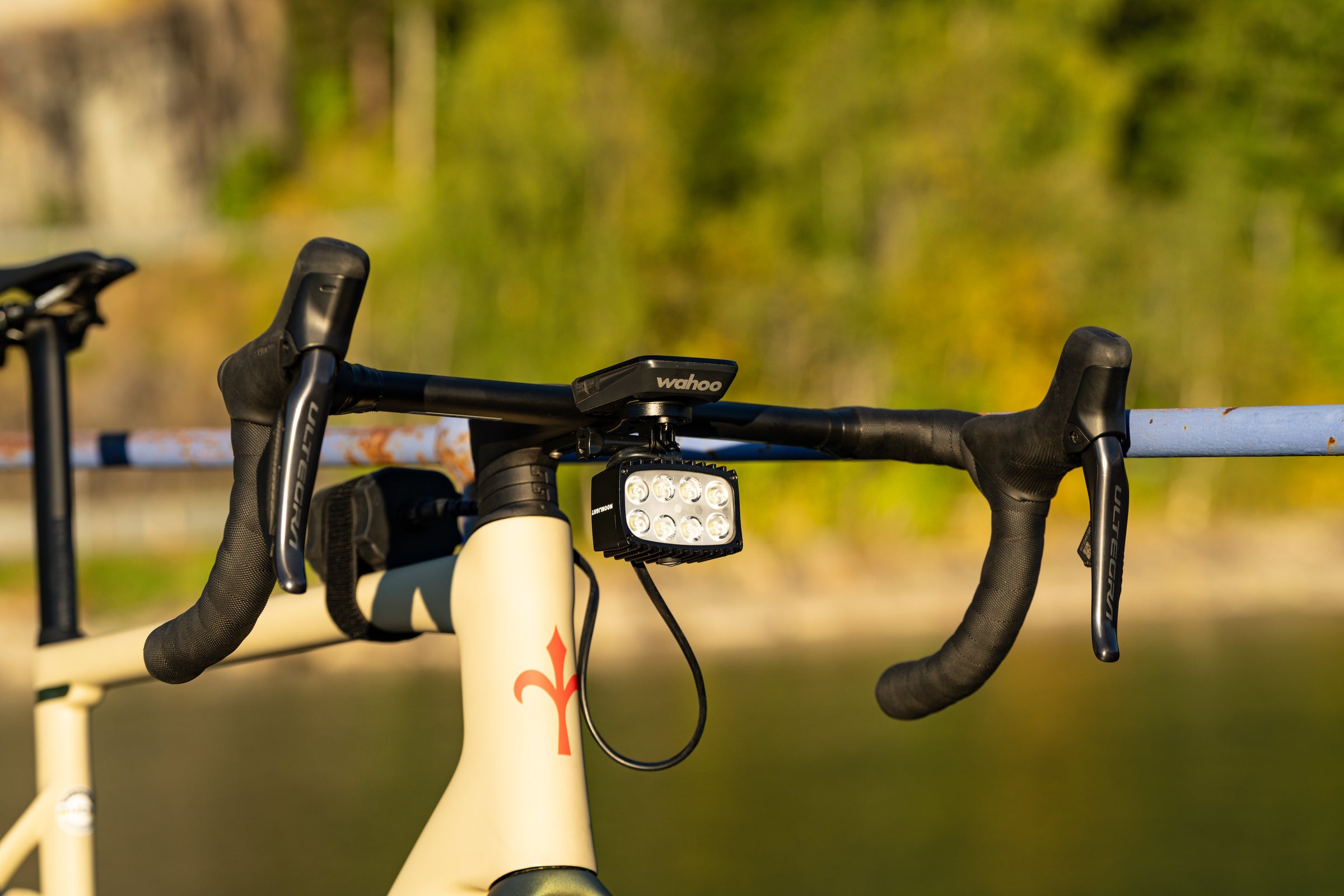 The ideal setup to cycle at night:
We will present 2 setups but in any case you will need:
- Powerful clear front light(s) to see far.
- A red rear light to be seen by the vehicles coming from behind.
Road and gravel cycling setup:
On your handlebar: Bright As Day 800, 2000, 3000 or even 4000 according to the speed and visibility you need to have. We recommend the 3000 and 4000 if you need to go off the road. Moonlight lamps have a wide spread so this will allow you to see far away but also near by.
The ultimate mountain bike setup:
A double light setup with one lamp on your helmet, 2000 lumens, and another one, the most powerful on your handlebar: 3000 or 4000 lumens. This is the best way to see obstacles and choose the best line as the light spread moves exactly where your eyes are going.
Battery life
Another important consideration is battery life. Look for a headlamp with extended battery life, so you can stay out for longer without needing to recharge. Bright As Day 3000 offers 4 different brightness levels and battery run time.
We use 21700-type batteries, the latest generation of lithium cell batteries used by companies like Tesla in their model 3 or model Y cars (4416 battery units per car). This type of battery, compared with most other competitor models that use the 18650-type lithium battery, tends to last about 15% longer. 
Bright As Day 3000 for Cycling:
| | | | |
| --- | --- | --- | --- |
| 4 dimm levels | Run time | Brightness | Application |
| #1 | 40 h | 150 true lumens | Be seen on a urban environment, repair or small adjustments. |
| #2 | 8 h | 850 true lumens | Normal use for road cycling at normal speed. |
| #3 | 4 h | 1500 true lumens | Normal recommended use for off-trail cycling at normal speed. |
| #4 | 2 h | 3000 true lumens | High speed or for technical terrain in descent, when you need to see far! |
Durability and reliability
Moonlight products are built to last and have been tested in the most challenging environment. Therefore you should count on the reliability of the headlamp to withstand heavy snow fall, rain or freezing temperature. All our headlamps are IP67 certified that means the headlamp is totally dust and waterproof. When you're looking for the best headlamp for cycling, make sure you keep these considerations in mind. With the right headlamp, you can make the most of your next ride!
The legislation
Every country has its own rules, so it is very important to verify the compliance of your equipment with the local legislation. We recommend you always use a red light on the rear of your bike and reflective clothing. Reduce the brightness of the lamp when evolving in an urban environment or crossing with another user. Thanks to the GoPro Mount compatibility you can easily lower the angle to not blind the vehicles or riders coming toward you.
Have a good and safe ride!