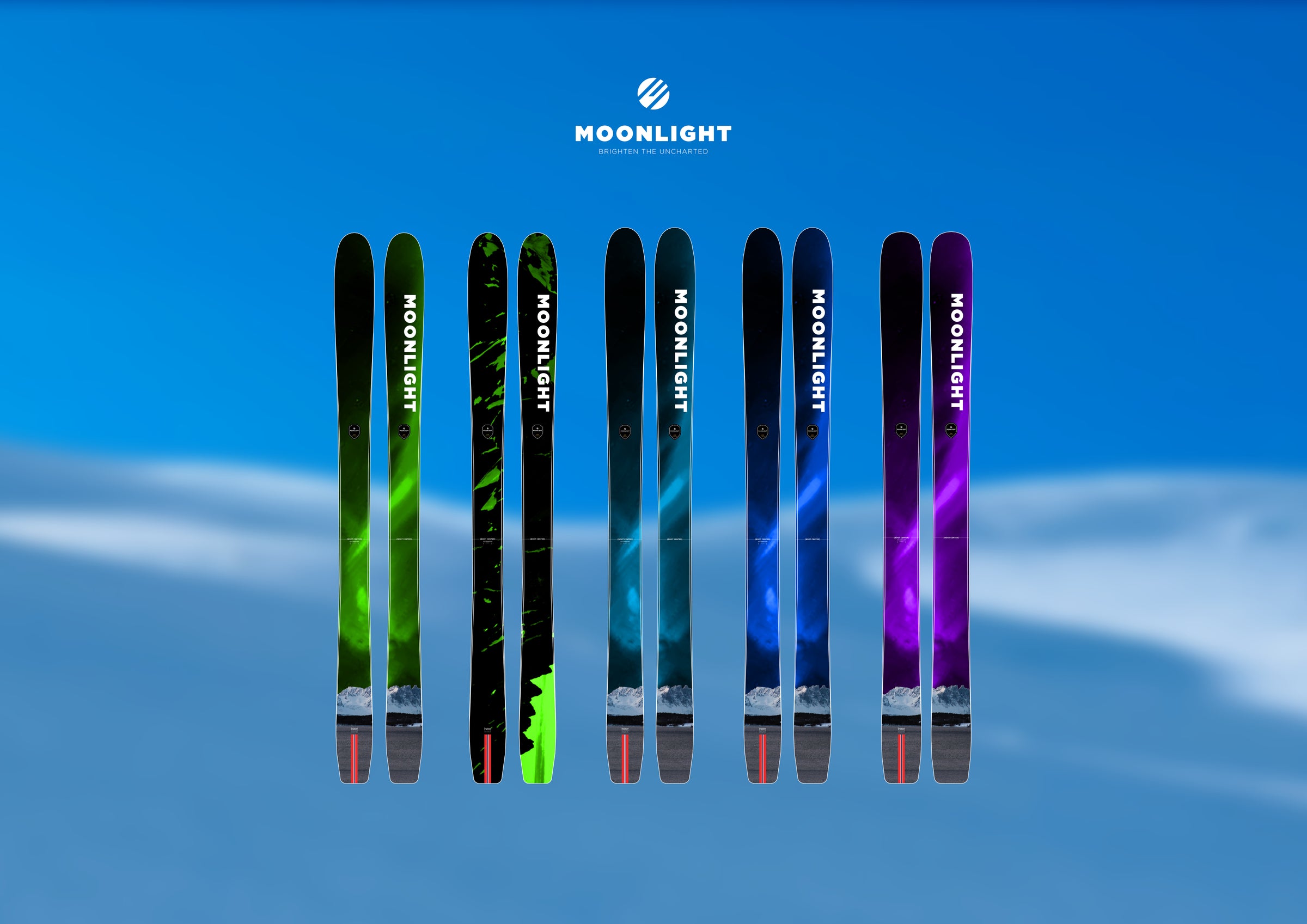 Buy brand new 2023 skis and get a free pair worth 899€ from our archive collection!
1. Select your 2023 ski
With Moonlight you have the choice between 3 models and 2 constructions. It is a simple as that.
The constructions:
Carbon All-Terrain: Slightly heavier than the Superlights but are still what we would class "lightweight". They are a softer and more forgiving ski which will excel in all kinds of snow conditions. These skis have a Poplar and Paulownia Wood core along with two layers of Carbon Fibre stringers. The All-Terrain have white ABS sidewalls. We recommend these skis 90% of the time, they are more forgiving, playful and durable.
Carbon Superlight: The lightest skis. Ideal for those looking to save as much weight as possible whether it be for big days and big metres or those looking for a more relaxed and "easier" time on the way up. They are stiffer and less forgiving than our All-Terrain construction therefore require more attention when skiing in variable snow conditions. These skis have a Hybrid Foam and Wood core along with four layers of Carbon Fibre stringers. You will find Bamboo sidewalls on this construction.
The shapes:
Mission skis, 92, 96 and 99mm. Best for versatility or steep skiing. Our most popular ski, the ideal width for most ski tourers to use in almost all conditions. Easy to ski and forgiving. ISPO Winner 2018.
Guide skis: 103, 106 and 109mm. For big mountains.  A step up from the mission ski, wider and a longer radius so better suited to skiers who like to make less turns and ski fast. A solid, reliable ski suited for strong skiers.
Cruiser skis: 114 and 120mm. Best choice for the fresh powder. Very playful for the size, best suited for deeps days but can be driven pretty easily and are a lot of fun in spring as well! ISPO Winner 2019.
2. Select your gifted ski from the archive models:
Discount will automatically applied at checkout on your archive ski. We offer free shipping and duty and taxe paid express for all ski order above 399€!
The Northern Lights Series:
Additional information about the 50/50 CFG construction: the Northern Lights skis features a mix of two sheets of Carbon Fiber and an additional 2 sheets of fibreglass. The core is a Superlight wood core. These skis are magnified with our limited Northern Lights design, a celebration to our Norwegian heritage.
Mission Carbon 50/5 CFG Kvænangstindan Camo is an extra stiff version of Mission which is probably reserved for the experienced skier in steep terrain.
Offer valid while stocks last.